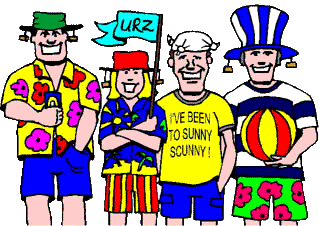 Bring A Mate!
Assistant manager Martin Allen has thrown down the challenge to get 20,000 people into the Madejski Stadium on Saturday for the visit of Bournemouth. Lets show him we can do it! It's easy enough - all we need is double the crowd. Make sure you bring along a mate, or a member of family, who doesn't usually get down to the games. This should be the ideal opportunity for a first visit to the Madejski Stadium - with a great atmosphere to remember it by. If you haven't been to a game for a while then make sure you get to this one.
Everyone can help promote the occassion by spreading the word. To help you can download a A4 poster directly from this site! Print out as many as you can and stick up around the office, your local pub or social club, on any handy noticeboard, around the town centre,... anywhere! - so all of Reading knows that the place to be at 3pm on Saturday 4 March 2000 is the Madejski Stadium.
Click here to download your Beach Party poster!
Note that if you print directly from your browser it may not come out full A4 size - alternatively you can download this file and print from your favourite paint package for full A4...
Latest News!
Two important developments can now be confirmed - the Beard Band will be present in the East/South corner, and there will be free beer! Well, the free beer isn't quite free - you need to be dressed up in beach gear to qualify for a "buy one pint of Fosters, get one free" voucher. Near certain developments include a possible draw for free season tickets - assuming the crowd tops at least 15,000, and plenty of free baloons and beach balloons bouncing around all four stands.