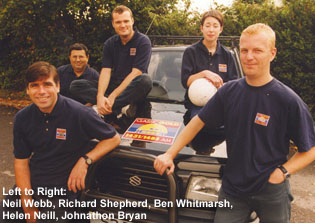 Column for week ending 12 February 2000:

Hello and welcome to the Royals Football Show Web site.....
Hi sports fans, and welcome to my world.
The big cheese head of the Hob Nob Anyone pages tells me that this web site is positively being bombarded with what he interestingly calls "hits" at the moment. At first I presumed he was talking about a lone gunman in a book depository taking pot shots at Ben Whitmarsh (the keeper of my diaries), but I'm told by my next door neighbour Bill Gates that it means something else entirely. Bill's a strange man, always talking about the joys of windows and mice. I think he must be Amish.
By giving you titbits about my day to day existence I of course digress from the task of talking about Reading football club. But I know that some of you like to hear how the other half live. It's as close as you'll get, after all.
Anyway, as I was taking part in a Pro-Celebrity golf tournament at Wentworth with General Pinochet, Brucie, and Remi Moses a couple of weeks ago, my mind could not help but wander to thoughts of relegation. January had been as a crucial month, a month that would set the scene for the rest of the season, and where hopefully the Royal's Phoenix would rise from the ashes of the TB2 era. But draws against Gillingham, Blackpool, Cambridge and defeat against Luton confirmed what we had all feared. A relegation battle was being fought, and was being lost.
The Royals football show had become a showcase for angry, frustrated fans, wanting change in every department, players, management and board level. They wanted new players, and new staff. And it was hard for us on the show to get a word in edgeways, so first of all I must thank the listeners for your contribution over the last few weeks, it made the show a bit of an exciting rollercoaster ride. And whose to say that your complaints didn't have an influence?
Within 10 days of the Luton match, we had a new coach, a new left back, and a three quarter of a million pound striker. We're now two games from Wembley, we've won a match against the leagues form team and grabbed a superb draw against the league leaders and seen off Blackpool. Things may not look 'rosy' but they are at least looking like a cheap daffodil. And Alan P reckons we're going up next season, and it looks increasingly likely that may be into div 1 and not 2.
So hope springs eternal in the hearts of Reading fans. The next time we write, the blue and white hoops will have fought, and hopefully conquered, Millwall, Brizzol City, Scunny, Chesterfield, Bournemouth and Oxford.
I predict that by the end of this period the word 'safety' will be proudly thrown around the public houses of Reading as we get drunk on the success of mid table obscurity.
However, now I must leave and answer the constant flow of e-mails that have been arriving on my Texas instruments speak and spell machine. And may I give a special note of thanks to Annabel from Mitchel Dever. Yes Annabel, Tuesday's fine, and don't forget the Marmite.