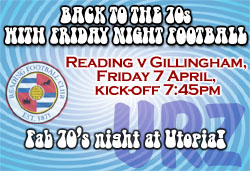 Take a trip back to the 1970s on Friday 7 April 2000 when Gillingham visit the Madejski Stadium for some Friday night football!
Everyone is encouraged to dress up in 70s gear to cheer the mighty Royals onto victory under the floodlights. It's time to dig out those scarves and re-create it at the Madejski Stadium. Wrap those scarves around the wrists and get that scarf around the neck.
Join in the Beard Band and sing along to 'You'll Never Walk Alone' with those scarves in the air. For those who don't remember the 70s - don't worry! Find some scarves, get on those flares and wear an Afro wig and you'll fit in perfectly.
Fab 70's night at Utopia for Reading URZ!
Once we've seen off Gillingham at a Madejski Stadium in party mood then continue to party at Utopia nightclub for a bargain price! Print off the flyer from this site and take it to Utopia on Friday 7th of April to receive entry for £2 instead of £5 before 11pm.
There will be a FREE VIP BUS SERVICE leaving from the Madejski Stadium shortly after the final whistle. The bus leaves outside Shooters on the East Stand at 9.45pm.
Entry to Utopia's 70s night on the Friday is for Over 19's only - and make sure you remember to stick on a pair of shoes and some smart jeans, flares, or trousers before heading out to the footie (or they might not let you in the club!). Where's it at? Utopia: Junction 12, Calcot, Reading.
Reading -v- Gillingham, Friday 7 April 2000, Madejski Stadium, 7:45pm kick-off.
Turn up, bring a mate, wear your 70s gear, and cheer the Royals to victory.
Buy your ticket in advance by calling the ticket office on 0118 968 1000 - and save £2!
Posters and Flyers
Help advertise the event! Simply click the link below to download a full colour poster to your PC. Put the poster in your car window, in your office, in your local pub and tell the whole of Reading about the night. Make sure you bring your flyer along on the night to save money on admission to Utopia.