STAR - Supporters Trust At Reading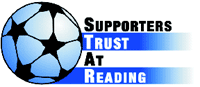 STAR is the Supporters Trust At Reading. It's the successor to Reading Football Supporters' Club and will do all that the Supporters' Club did - and more! Last season (2001/2002) nearly 2000 Reading fans joined the Supporters' Club - STAR aims to build on that number for 2002/03.
Please join us today.

<!-GONE-->
Money Off - A 10% discount voucher on all your non-sale Reading Football Club purchases for one shopping trip at the Megastore. So if you spend £50 there you've already got the cost of your membership back

Fans' Forums - Free entry to popular question and answer members-only evenings with key RFC people - 3 times a season

Ticket Priority - STAR Members get big match ticket priority over the general public (but after season-ticket holders)

Away Travel - STAR runs subsidised coaches to all away games for exclusive use of members. Pick-ups at the Stadium and Station Hill
Newsletter - Free members' newsletter, Reading Matter, three times a year, plus free access to our e-mail update service
Social Events - History evenings, quizzes, football matches against other supporters
Representation - is a democratically accountable, community minded, nonprofit- making supporters' organisation, whose aims include representing the views of Reading fans to the club, the media and the local community.
STAR also seeks to encourage support for Reading FC, acquire and hold shares in the club on behalf of supporters, promote constructive involvement of supporters in the club and continue the work of RFSC.

Founder Membership
STAR (Supporters Trust At Reading) begins life in July 2002. Any Reading fan can become a Founder Member of STAR - but only during the course of the 2002/03 season. The minimum donation/fee is £25. Founder Membership will be limited to 1000 members only.
What EXTRA do Founder Members get?
Membership for 2 years until 30th June 2004 (worth c£15)
Frameable certificate showing your ownership of a share in STAR
Free entry into our prize draws for 2 places in our match ball sponsorship group for a Reading match (one draw per season)
Permanent, low membership number in STAR allocated to you for as long as your membership is maintained. There may in the future be priorities or privileges attached to these numbers, such as access to Founder member events, the Academy Dome pitch etc. No promises, but we'll try!
The satisfaction of part of your membership fee being passed on to support the maintenance of RFC's important Academy Dome
Why have a Founder Membership?
Almost all Supporters Trusts charge a lot more than the £5 introductory STAR membership fee for 2002/03. The cost of setting up and running STAR, which aims to have a wider range of activities than RFSC, needs funding now. Ordinary membership of STAR (£5) will go up in 2003/04, probably to £10, so Founder Members will only be paying an extra £10. Founder Membership is a way for people to express their support of Reading Football Club, the STAR organisation and the principles of Supporters Trusts.
How to join as a Founder Member
Use the appropriate box on our standard application form together with a fee of not less than £25. If you have already joined as a standard £5/£2.50 member your membership can be upgraded, provided you apply by 30.6.03.
How to Join STAR
To join STAR either as a Founder Member or as a regular member for the 2002/2003 season please download the following application form. Please print the following PDF file, complete and sent with appropriate payment. Full details are included on the application form: