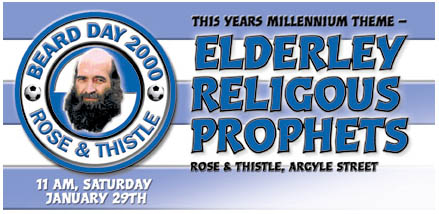 On the 29th January, the fifth Annual Beard day will be taking place at the Rose and Thistle pub, Argyle Street, Reading.

This years special Millennium Theme is 'Elderly Religious Prophets', with participants invited to attend dressed as Elderly Religious Prophets from days gone by. Traditional Beard Day Events, such as the 'Gout Egg and Spoon Race' and the 'Port and Cheese Challenge' have been replaced by special millennium events including the 'Religious Prophet Sack Race'.

After the success of the band / football excursion last year, we will once again be taking the Band to the Madjeski Stadium, to watch Reading v Colchester, where Band and Beard wearers are to gather under the scoreboard in the East Stand.

All are welcome to attend, as long as they observe the rules of the event.

Suggested outfits:

One eyed UFO cult leader, Iranian Ayatolla, Old Testament Besandled Beardface, Greek (or Russian) Orthodox Priest, Wizard, Soothsayer, Sikh Warrior, Muslim Visionary.

Please not that despite the spiritual nature of this even, the normal rules still apply:

<!-GONE-->

This year's atttractions:
The brass band will be attending, banging out Glen Miller style tunes.
The banquet will perform a children's entertaining act dressed as a wizard.
Reading v Colchester United
Talking Salt 'n Pepper pots
Religious Prophet Sack Race.
For Further Information, Please Contact Kevin Ferris on 0777 588 5166 or email kevin_ferris@yahoo.com
For those unable to attend the Rose and Thistle (where transport to the Stadium is provided for those wearing beards), participation in the East Stand on the day is strongly encouraged!
To find out more and discuss beard day, take part in the discussion forum on this site.


- Gossip - Latest - Reports - ARTICLES - Piccies - Interact - Links - About -