---


Are you watching Mark McGhee?
First in a series of articles by Tony Ella, Editor of 'Taking The Biscuit'
---
This article kicks off the start of a wonderful friendship (arrrhhh!) between 'Hob Nob Anyone?' and 'Taking The Biscuit' - the paper based Reading FC Fanzine available on match days. With any luck you'll be seeing more from TTB appearing on these pages - and a regular spot from 'Hob Nob Anyone?' appearing in TTB. Isn't it lovely.
Revenge, it is said, is a dish best served cold.<!-GONE-->
And on a cold April night in Berkshire, in front of Reading's biggest league gate of the season, the Royals brushed aside a woefully inept Wolves team to record a victory that would assure them of first division football for another season.
If Mark McGhee had thought eighteen months away from Elm Park would cool the temperament of any Reading fan then, like most of the decisions he has made in that period, he was to be proved sadly wrong.
That evening 12,000 Reading fans greeted Mr. McGhee with, what can only be described as, a constant torrent of highly vocal abuse which left the former Elm Park boss visibly shaken.
His new team comprised a multi million pound talent were no match for the power and passion of the Royals on and off the pitch. The Wolves fans that evening - after an initial burst remained muted throughout the game as a wall of noise cascaded from all sides of the ground.
The Tilehurst End, normally containing some of the most sedate fans in the football league, was like a bear pit. Even people in the stand (with the exception of a couple of old codgers) gave the team their full vocal backing and McGhee some stick.
It upset McGhee so much that during the post match interviews the talk was not of the performance of the Wanderers team but of the anger he felt toward Reading fans. Why were they so hostile to him? What had he done to deserve this? He had left the football club in a healthy state and had done his job.
Under McGhee the team was transformed from 3rd (nearly 4th) division cannon fodder into a sleek 1st Division outfit. On an extremely limited budget and with the expertise of Colin Lee as coach McGhee assembled side that oozed class.
We started to play football as God intended. For supporters bought up in the Ian "route one" Branfoot era this was revolutionary. Players passed to each other! We scored goals! Our defence looked rock solid! Most importantly away games became watchable without large intakes of alcohol!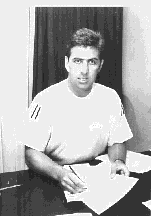 At every stage of his career McGhee came across as a manager you could trust and respect. Here was a man who kept his promises. In 1993 at the supporters club AGM he said we would win the 2nd division title and the Royals duly romped home.
At the 1994 AGM he said we would make the 1st division play-offâs. There was no doubt in my mind. Mark had spoken and it was indeed a good feeling to see Reading the pride of the Thames Valley as both Oxford and Swindon fans looked jealously at the league tables.
This, I believe, became his undoing. McGhee had a job to do, to get the Royals into the promised land of the Premiership so we could hob-nob with the likes of Manchester United and Liverpool. No one could stop him, not even the occasional spat with John Madejski seemed to dampen his enthusiasm for the job in hand.
It was obvious that Reading were going to find it difficult to hold onto one of the hottest management teams in the country and it surprised no-one when Leicester became interested following the departure of Brian Little to Aston Villa.
Everyone thought at the time that McGheeâs intention was to shake up Madejski and to give himself a little more bargaining power in the transfer market. Leicester at the time were destined for relegation, a side without hope. Reading were on the up. It was no contest. At the Portsmouth away game he even waved at the huge band of travelling supporters when they chanted "Don't go McGhee". We loved him and he loved us.
The town breathed a huge sigh of relief as the Reading Evening Post declared "McGhee to Stay at Elm Park". After a virtually all-night session at Madejski's house Mark McGhee had agreed to stay at Reading. they had shook hands on the deal.
Relief turned to horror, however, as the radio gave a different story. McGhee had had a change of heart the next day and decided leafy Berkshire was not for him. Leicester beckoned and he was off. I was gutted. This cannot be true. When McGhee said he was going to do something he did it. He was a man of his word. Surely he couldn't have lied?
Rumours surfaced in the days following. During the long negotiations McGhee had agreed to stay at Elm Park only as a way to allow him to go home and get some sleep. He was always leaving, he just lied to get out of an awkward situation. Later this was to be confirmed in an interview with one of the Leicester City fanzines, McGhee even made a joke of the whole situation.
For a man of supposed immense integrity this was a mind bogglingly stupid thing to do. This was the actions of a man who had no respect for the people of Reading and the fans of the football club.
Perhaps we shouldn't be surprised that McGhee was just like the rest. Football fans are lied to most of the time - one more on the gravy train doesn't really matter.
Well it hurt me. I took it personally and immediately instigated a ban on Walker crisp products. Unfortunately I didn't realise this encompassed Pickled Onion flavoured Monster Munch but I stuck to my task and steadfastly refused to eat any savoury products from the sponsors of Leicester City.
Other fans handled it differently. One spent many a happy hour ringing up Leicester City switchboard, screaming "Leave our manager alone you bastards" and slamming the phone down.
All this seems such a long time ago and since then McGhee has again shown his true colours - abandoning (much to my delight) Leicester in favour of the once mighty Wolverhampton Wanderers. Leicester fans bleat about how they have been done wrong by but it isn't true. If you live by the sword and poach other people's managers you've got to be prepared to die by the sword.
Come play-off day, however, I was routing for Leicester and I could imagine McGhee with his head in his hands when the late, late winner from Claridge restored Leicester to the top flight.
So, what of this season? Has the ghost of McGhee's past been laid to rest? I don't think so. Comments in the national papers about wanting to send Reading down on the final day of the following season have kept the animosity alive. He now hates Reading but he still doesn't understand why we hate him.
Mark, you lied. We trusted you and you let us down. We respected you and you abused that respect. You had a job to do and failed to do it. But maybe what hurts the most is that you have never said that you regretted the evening at Madejski's house when you shook hands on a deal you had no intention of honouring. To you this is part and parcel of the wheeler-dealing in football.
It was as if you have gone round and shook the hand of every Reading supporter telling them you were staying and then stuck two fingers up at them. I guess there isn't that many that would want to shake your hand now.
Roll on April 12th.
---

Copies of TTB can be obtained from:
105 Rowe Court
Reading
Berkshire
RG30 2HZ
Cost is £1 + either SAE or 30p postage.
You can also contact TTB via E-Mail: ttb@patrol.i-way.co.uk
---
- Gossip - Latest - Reports - Articles - Piccies - Interact - Links - About -
---

---