Reading FC Match Report: 2014/2015 Season - Championship


READING 0 DERBY 3
Reading: --
Derby: C Martin (18), J Ibe (38), C Martin (79).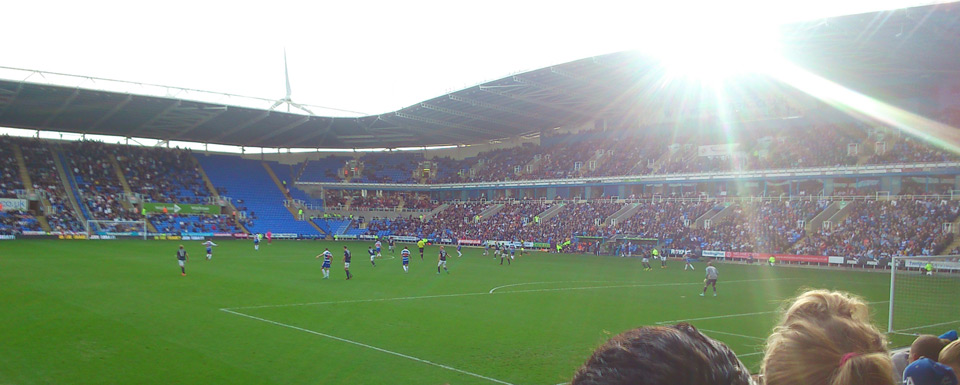 Reading started well. They had Derby on the back foot for most of the first half, closing players down quickly and winning the ball with some sharp challenges. Murray was winning every ball in the air. Robson-Kanu found a superb cross which Cox headed over after three minutes and there were other good chances to follow. A sweeping move gave Norwood a sight of goal but his shot lacked conviction and drifted wide. Then Reading fell behind to a very soft goal. A Derby corner floated over and Martin rose unchallenged to nod the ball down inside the post, the ball somehow creeping past the defender on the line. Reading responded positively. Taylor's strike from outside the box was too powerful for Grant to hold but the ball rebounded off Robso-Kanu's legs and into his arms. About ten minutes before half time Murray thumped a header against the bar with Grant beaten. An equaliser looked likely, but a jinking run and finish from Ibe knocked the stuffing out of the Royals. It was a well taken goal but it really should have been prevented.

With a two goal cushion Derby began to play relaxed and composed football. Martin breached the fragile looking back four and forced Federici into a good save four minutes into the second half. Reading simply could make no impression on the Derby defence. The game drifted on as Derby successfully subdued Reading. In desperation Adkins made a mass substitution replacing Mackie, Norwood and Robson-Kanu with Blackman, Kuhl and Pogrebnyak. Robson-Kanu and Norwood were probably weary from their international duties in midweek, but Mackie was clearly miffed, and rightly so. He was the only player who stood out for his commitment to the cause. He ran at the Derby defence, turned his full back at least three times and I even saw him covering at left back when Derby counter attacked from a Reading corner while the back four were all hopelessly out of position. It was a decision which makes me begin to question Adkins judgement. To make matters worse he realised his error and tried to redeem himself by twice making reference to how well Mackie had played during his post-match interview.

Pogrebnyak had a good chance to reduce the arrears but when the ball fell to him with Grant out of position he was unable to hit the target. Salt was rubbed into the wounds when Martin simply muscled his way through Reading's lightweight defence to beat and unprotected Federici for the third goal. Heads dropped and Derby indulged in some utterly unnecessary time-wasting in the corners. Obita was booked for having too much to say for himself and there was a fair amount of finger-pointing and bickering amongst the Reading team as they went through the motions of finishing a poor second half performance.

This is a worrying time for the Royals. There is clearly a significant lack of defensive cover. There is a lack of leadership on and off the field which is not helping promising young players to flourish or support players suffering a dip in confidence. There has to be some doubt about Adkins' approach at this stage. The next few games will be as big a test for the manager as the players. The crowd can help, but they will only get behind the team if they show the level of commitment seen from Mackie (not just today I might add). Anything less than a win against Blackpool at home next week and we will be looking over our shoulder and the relegation zone with Christmas approaching.
John Wells
This Championship game took place 2199 days ago in the 2014/2015 season.