News and Views
Bizarre Hooliganism Headline Back-Fires
20 March 2014
By Hob Nob Anyone?
The Reading Chronicle has left themselves open for ridicule after a bizarre front page article about Reading's non-existent football hooligan problem. The story, a work of fiction, was backed up by a pathetic model posed picture of a "fan" in replica shirt hidden from view with a scarf and holding a piece of wood. The article is an absolute embarrassment to the paper, and unfortunately the football club, giving an entirely opposite view of the reality. It claims Reading fans are a bunch of drunk racists who cause trouble both at home and at away grounds.

Obviously the facts are entirely the opposite as Reading's miniscule arrest figures show. Reading Football Club has changed dramatically over the past 30 years transforming itself into a incredibly safe and welcoming family club. The club have previously been named as Family Club of the year by the Football League.

The newspaper didn't stop there with a ridiculous leading paragraph that linked the Hillsborough disaster to hooliganism. The article may have succeeded in drawing brief attention to the paper for it's inaccurate and potentially libelous reporting - but at a cost. The Chronicle's reputation slips further down, and the club were quick to end their association with the paper.

In an open letter, to respond to the paper's article, Sir John Madejski expressed his disappointment with the "unwarranted and sensationalised attack which undermines everything our club tries to represent". Madejski's letter goes on to say "... we have decided to suspend our relationship with this particular publication. We have a duty to protect the club's reputation, and particularly to protect our supporters' reputation. This is not a decision we take lightly because we value the freedom of the press and have enjoyed excellent relationships with our local media in the past, but we are sure our supporters will agree that we cannot allow the fans' good name to be besmirched in this way." Sir John is absolutely correct and I would expect the people of Reading to follow the club's lead in suspending their association with the paper.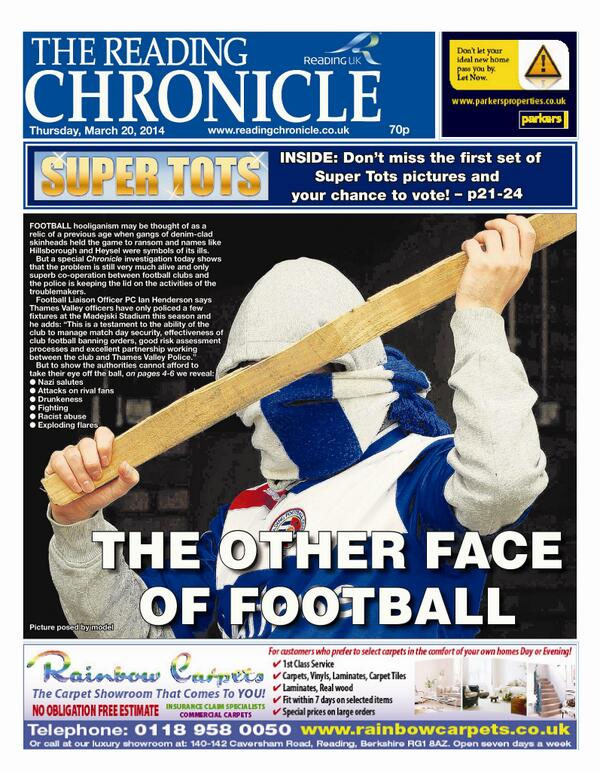 Share this article: