Reading Football Club News: August 2018
Watford Cruise To League Cup Victory
29 August 2018
By Hob Nob Anyone?
The gulf in class between the Premier League and the Championship was underlined this evening as Reading were eliminated from the Carabao Cup by a very good second string Watford team. Sloppy play provided Watford with two opportunities who full advantage with two well taken goals. The Premier League side controlled the game throughout and looked far more menacing around the box than Reading. The Royals could not be faulted for their effort and commitment but they were no match for a pacey, slick passing Watford.
Read More...
Two Points Thrown Away At Blackburn
22 August 2018
By Hob Nob Anyone?
Paul Clement said that his Reading team are "up and running" after picking up their first point of the season at the fourth attempt at Blackburn Rovers. However, it was a case of two points lost rather than one point gained after Reading led by two goals at half time only to concede twice in the second half. The Royals were well in control at the break after two goals from Jon Dadi Bodvarsson with Reading the better side in the first half.

Blackburn started the game the strongest and it looked like it would be a tough night for the Royals with Mannone making an excellent save to stop the home side taking an early lead. However Bodvarsson turned things around when he made the most of a mistake in the Rovers defence to break free and put the ball over the goalkeeper's head. That goal with just 12 minutes played saw Reading gain confidence.

Reading had made changes from the home defeat to Bolton and Sone Aluko and Leandro Bacuna were both back in the starting team. It was Blackett that created the second goal though on 25 minutes. A quick move down the left saw the ball crossed in for Meite whose effort was well saved. Bodvarsson was there again to smash home and put Reading 2-0 up.

From that point Reading should have gone on to win the game but instead Blackburn were gifted two goals by Paul McShane who had been preferred to Ilori in the centre of defence. The first on 51 minuts was a clear cut foul inside the box and Mulgrew stepped up to blast past Mannone. With 15 minutes left on the clock McShane was again judged to have fouled inside the area, although it appeared a harsh decision. Mulgrew came forward again to score his second from the penalty spot and give Blackburn a 2-2 draw and a share of the points.
Southampton Winger Sims Arrives On Season Loan
21 August 2018
By Hob Nob Anyone?
Southampton winger Joshua Sims has joined the Royals on a season long loan. Twenty one year old Sims made his Southampton Premier League debut as a 19 year old in November 2016, starting in a 1-0 victory over Everton and has gone on to make 13 appearances in the Premier League for the Saints over the last two seasons. After being restricted to most of those games as late showings from the bench, and only making 7 appearances in all competitions last season, Southampton are keen to give Sims more experience this season.

Reading manager Paul Clement describes Sims as "a talented young player that can play on either side, he is a hard worker with a lot of ability and potential, and I'm delighted that he's joining us at Reading." With Reading's lack of success so far this season in the league Clement will be hoping Sims can make an immediate impact and is highly likely to go straight into the team. Sims will be available for selection as Reading travel to Blackburn Rovers on Wednesday evening looking for their first points of the season.
Poor League Start Continues As Bolton Win
18 August 2018
By Hob Nob Anyone?
The inability of Reading to find the back of the net has been a problem for a long time now and it is one which is stubbornly refusing to go away. After controlling the game in the first half The Royals were caught napping at the back shortly after half time and fell behind to a calmly taken chance by substitute Wildshut. From that point onwards the outcome looked inevitable as Bolton sat back and stifled any attempts by Reading to pick their way through a tight defensive formation. Reading simply lacked the imagination and creativity to create a clear opening, failing to register a single shot attempt on target in the entire second half. This third successive defeat in the league creates the grim statistic of being their worst start to a season since 1959!
Read More...
Clement Ponders Team For Bolton Match
17 August 2018
By Hob Nob Anyone?
The Royals will be hoping to build on their League Cup victory over Birmingham during the week and follow it up with a first League win as Bolton Wanderers visit the Madejski Stadium this weekend. Last season Reading and Bolton were battling it out at the bottom of the table to avoid relegation. Reading have carried on where they left off and two defeats see them officially in bottom place in the Championship, meanwhile Bolton have got off to a good start with four points already on the board. Bolton were beaten at Leeds in the League Cup, 1-2, but fielded a dramatically different team in that game. They will see this as an opportunity to continue their good start.

Reading did make changes against Birmingham on Tuesday but still put out a strong side that wasn't far away from first choice. The victory, with goals from Meite and Swift, was a big confidence boost but may have come at a price with a number of players taking minor knocks. Barrow left the pitch in the first half with an apparent hamstring problem and could well be out of action, or at least rested, against Bolton. Meite and Bacuna should be fit for selection but also had minor injuries during the match.

Liam Moore made his return to action and will be hoping he did enough to warrant a start in the centre of defence in the League. Ilori and McShane will also be in with a good should depending on Clement's choice of formation for a game we want to set out to win. Up front Bodvarsson could be back in the team, but Clement could opt to give Baldock and McNulty another go together.
Reading Get Watford At Home In League Cup
17 August 2018
By Hob Nob Anyone?
Reading will play Watford at home on Tuesday 28 August in the second round of the League Cup. Reading were 2-0 winners over Birmingham City to progress to the second round, however Premier League Watford come straight in at the second round stage of the competition and will begin their cup campaign at Reading. Watford kicked off their Premier League season with a 2-0 home win over Brighton last weekend.

Our last games against Watford were in the 2014/2015 season when we lost 1-4 away and 0-1 at home. The last time we played Watford in the League Cup was also a home fixture in September 2004. Back then a side that included Hahnemann, Murty, Convey, Sidwell and Kitson went down 0-3 in a poor game at the Madejski Stadium.
How Technology May Change Things at Reading FC
16 August 2018
By Hob Nob Anyone?
Micro cameras.

With the dust just settling on the thrilling World Cup in Russia, screens and cameras have been somewhat more in the footballing news than usual. VAR proved controversial, and many pundits had a lot to say about this new innovation. Overall the general consensus was that although it led to some delay and one or two overzealous decisions, more times than most it helped. It was especially good at highlighting sneaky aggressive behaviours from some of the more 'expressive' teams.

There will, no doubt, have to be some refining of on-pitch practices to make sure VAR runs a little more smoothly and less intrusively in time. But talking of intrusive cameras, one of the most interesting future technological developments is micro cameras, which will offer viewers unparalleled quality and choice of viewing angles.

Many companies are working on invisible weightless cameras that will be worn on the shirts of players. It may be a year or two after future Messis and Ronaldos wear them that readers of Hob Nob Anyone? see our own players sporting this new technology, but it is an exciting prospect nonetheless.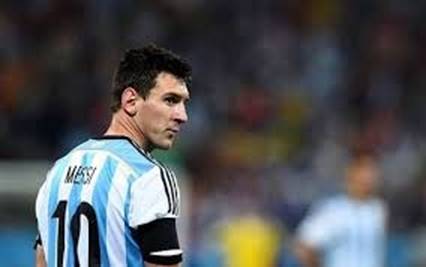 Future Messis will have camera-carrying kit.

Anyone who has watched Formula One will know that jerkiness and unclear pictures from the on-helmet cameras diminish the experience somewhat, so the techies are working hard to ensure an optimum user experience with shirt micro cameras. This is an especially difficult challenge for soccer techies obviously, as movement is more extreme than a relatively steady car on a racing track, or a gliding skier coming down a slope.

With soccer players jumping, leaping and running around all over the place, there is much scope for a nearly impossible viewing experience. Tech companies are working on a self-levelling micro camera system that is still nearly weightless. The technology borrows mechanisms from diving technology which uses water and vacuums to make absolute steady pictures under pressure. This should ensure an excellent viewer experience, but the technology is in very early stages.

No longer will Reading fans be at the mercy of the cameramen and producers to choose the angle and viewpoints of the match action, they can choose themselves, and access replays as they like. If the technology develops as is predicted, several cameras may be an option, so boot micro cameras and head micro cameras can provide additional scope than just the standard shirt micro camera.

Do Cyborgs eat Hob Nobs?

Who would have thought, when this website was founded in 1994, that it would only be 22 years later when the idea of cyborgs playing on our beloved pitch became a realistic proposition rather than just a sci-fi fantasy.

In Zurich two years ago the first ever Cyborg Games was held and it was a solid success. As technology, human health and sporting activity move inexorably together, the options for football become more and more interesting. On our pitches semi-cyborg football games could become an interesting additional to the traditional matches.

There is little doubt in most people's minds that watching a field full of robots play against one another would not be anywhere near as appealing as watching two teams of humans, it may even be a little bit sad. But watching an enhanced human team play another enhanced human team will keep the interest levels high and the robotics side may make things even more interesting. Think of it as a kind of human Robot Wars, but playing football, not a fight to the death. This also has the scope to give whole additional levels of interest to the online betting community.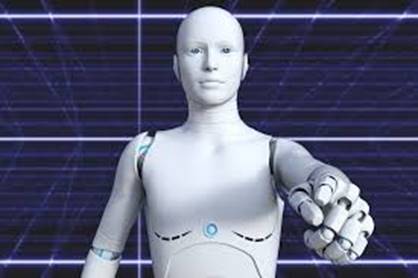 On the pitch in the future?

The Beautiful Game doesn't really need innate enhancing or disrupting, but futurists and technologists are trying to build a beautiful technological game as a complement to the original. Even if the end product doesn't end up being a success, there is no doubt that many ancillary and corollary technological lessons will be learned. A hob nob-nibbling semi-cyber goalie may yet be seen on our pitches, even if it is just a twenty minute taster warm up for the crowd, before the real human match.
Trials at the first ever Cyborg Games show a success in games where people were slightly enhanced with cyborg-esque elements. Initially this technology is being used for disabled people, and it brings a whole new meaning to the phrase level playing field.

Progressive Press Conferences.

At the moment press conferences can feel slightly stale. This may be a format in need of revitalisation and technology will probably be able to help. In tennis, Roger Federer famously referred to his obligation to attend press conferences after all matches like going to speak to his psychotherapist every day. This may not be the ideal format to get the best from the athlete and for the listening sports consuming public.

Several tech companies are developing systems that combine artificial intelligence, algorithms and social media. These platforms will enable the fans to be the ones who ask the questions, alongside the media professionals. This isn't perhaps a novel idea, it just sounds like a Twitter Q and A session, but that isn't quite the case.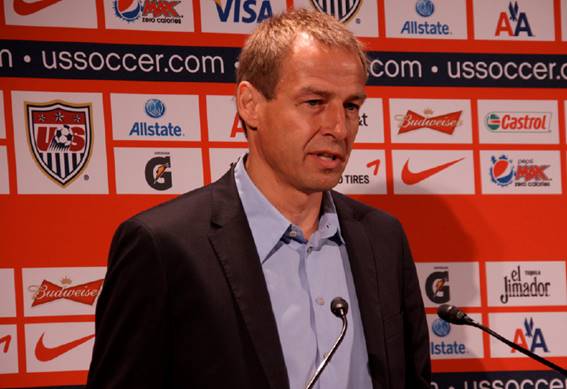 Tech may help keep future Jurgens more engaged.

What these new platforms do is use AI and algorithms to increase the quality of questions that, let's be honest, isn't always very high if Twitter alone is used. The AI actively seeks out originality of thought in the fans' and press members' submitted questions, then compares them with the archived store of all the particular athlete's previously asked questions, and then compares them to an archive of all other press conference questions and answers and works out which are most likely to elicit an interesting response, all happening in real time.

This format will allow us to see how often the public come up with better questions than the media professionals. Also, if the athlete or Reading FC player knows he or she is getting the best quality questions that human and computer thought combined can offer, then they can't really complain too any more.
Reading Get First Win Of The Season
15 August 2018
By Hob Nob Anyone?
Reading delivered a much needed confidence boost for the team and fans alike with a 2-0 home victory over a poor Birmingham City in the first round of the League Cup. Reading's first win of the season was comfortable enough thanks to two good goals - one in the first half from Yakou Meite and a stunning second half free kick from the boot of John Swift. In the end this was a straight forward victory with Reading enjoying the better of the match and looking solid for their win without ever looking over impressive apart from two well taken goals.

Paul Clement made changes for this League Cup game but the changes weren't over dramatic and the starting eleven was clearly a very strong side rather than a reserve team. Sam Walker got his first start in goal and Moore was finally recalled to the side after his summer transfer drama. Swift was back in the team after sitting it out during our weekend league defeat at Nottingham Forest. Up front we started with both Baldock and McNulty with Bodvarsson ending as an unused substitute.

McNulty should be pleased with his performance that included setting up the first goal with an excellent ball to Meite. Overall we were not particularly strong up front but the defence was again impressive with sold performances from the back four. Defensively we clearly have plenty of options now Moore clearly up for the challenge and there was even time to O'Shea to make an appearance from the bench late on and show he can still do a job. In goal Walker did nothing wrong and should provide some competition for Manone.

League Cup first round games are miles away from the demands of a League game, but there were plenty of positives for Reading to take into their home fixture with Bolton on Saturday. Clement clearly has a good squad to pick from and options to pick from in nearly every position. It may be early days but three points are a must on Saturday against a side that Reading should expect to beat if they are to do anything this season. Before that we have the interest of the second round draw that takes place on Thursday.
Plenty Of Changes Expected For League Cup Game
14 August 2018
By Hob Nob Anyone?
Reading manager Paul Clement looks set to make plenty of changes tonight as Birmingham City visit the Madejski Stadium for a first round League Cup tie. The Royals might enjoy a break from the league after two straight defeats sees them bottom of the very early Championship table. Birmingham haven't done much better and have just a single point to show from their league games with a 2-2 home draw against Norwich and a 0-1 defeat on the road at Middlesbrough.

Last season Reading got through two rounds of the League Cup before a third round exit at home to Swansea City. This time around Reading have a tougher start against Championship opposition and will be looking to use the tie to give some match action to players who have been forced to wait their turn. The same will apply to the visitors who are certain to also mix up their starting eleven for a match that has little significance.

For Reading we should see players who have been on the bench make some starts and that could include McNulty up front, Richards in defence and both Swift and O'Shea will be hoping to get some game time to make a claim for a starting place in the league. New signing Sam Walker is likely to be given a chance in goal after signing from Colchester in the summer.

Last season Birmingham City were 2-0 winners against Reading in the league at the Madejski. So Reading will be hoping to repeat their away performance from the last campaign when goals from Bodvarsson and Evans secured an away win by the same score line. Our last cup game against City was way back in January 2007 whenre we were 3-2 winners on the road.
Recent Meetings With Birmingham City
Reading Bottom: Another Narrow Defeat
13 August 2018
By Hob Nob Anyone?
It was business as usual for the Royals this weekend as they enjoyed some good spells of football against Nottingham Forest at the City Ground before leaving with a 0-1 defeat. Reading have lost their opening two games of the Championship season and sit bottom of the table, as they continue the form that finished last season's disappointing campaign. There are some signs for optimism, but the truth is that despite the signings of Baldock and McNulty the Royals are dramatically lacking up front. There seems little doubt that Reading face a tough season ahead of them. Most Reading fans remain confident that Reading will avoid the drop but there are no signs that we should expect anything more with the current squad.

Playing away from home against a team expected to challenge for promotion this season, Reading did a good job in limiting Forest's chances. Despite Liam Moore staying at Reading he was again missing from the match day squad, allowing Ilori and McShane to continue in the centre of defence. The defence dealt with Forest with no issues for most of the game. After few chances it was 0-0 at half-time and it was Reading that went closest after the break with Meite putting a header just wide. However, it was a quiet afternoon from Baldock who found himself replaced by McNulty on the hour. McNulty also had no success up front and instead it was Forest that claimed the win on 68 minutes as they gradually too control of the game.

The Royals were never likely to come back from a goal down away from home - they last time we scored on the road was way back in March. Reading have now scored just a single league goal in their last five games and Clement appears to have a massive job ahead of him to turn things around. Despite the early pressure Clement remains confident of a Reading revival as the season continues: "It was too not bad a performance, particularly away from home against a team that played very well in their last game here... we had the advantage... The reality is we're an improving team. I can see the improvement so I'm not worried."

Reading now face Birmingham City at home on Tuesday night in the league cup before Bolton Wanderers visit next weekend. Reading will fancy their chances of some first league points of the season against Bolton who struggled last term and just survived the drop. However, Bolton will arrive with confidence after picking up four points from their opening two games.
Quiet Transfer Deadline Day For Royals
10 August 2018
By Hob Nob Anyone?
Transfer deadline day passed quietly for the Royals as they hung on to central defender Liam Moore, who had been expected to move away from the club during the summer. Last season's player of the season was widely expected to join Brighton but failed to move after Reading considered and rejected offers that didn't match their value of the player. With no signings coming in on deadline day either it appears that Reading wrapped up their transfers early on, although there is still the possibility of loan moves until the end of August.

Prior to the transfer window closing, Reading wrapped up the signings of striker Sam Baldock from Brighton and goalkeeper Sam Walker from Colchester last week. Both players were eligible to play as the Royals kicked off their season with a disappointing 1-2 home defeat against Derby County last Friday. Walker was on the bench with Mannone continuing in goal while Baldock got to player the last 20 minutes or so after coming off the bench to replace Swift. Meanwhile summer signings Yiadom and Meyler also made their competitive debuts for the Royals after signing last month.

Liam Moore was missing ahead of his expected move but could now return to the starting eleven as the Royals travel to Nottingham Forest for their second game of the new season this weekend. For Forest it will already be their third league game after two 1-1 draws against Bristol City and West Brom. With four points already dropped they will be hoping to pick up three points against a Reading side widely tipped for relegation.
Summer signings - summary:
Players In
Sam Baldock (Brighton)
Sam Walker (Colchester)
Marc McNulty (Coventry) &pound1M
Darren Sidoel (Jong Ajax)
John O'Shea (Sunderland)
David Meyler (Hull City)
Andy Yiadom (Barnsley)
Players Out
George Evans (Derby)
Sam Smith (Oxford) - Loan
Lewis Ward (Northampton) - Loan
Joey van den Berg (NEC Nijmegen) - Loan
Yann Kermorgant (Retired)
Tennai Watson (AFC Wimbledon) - Season Loan
Andrija Novakovic (Fortuna Sittard) - Season Loan
Sandro Weiser (Contract Terminated)
Stephen Quinn (Released)
Joseph Mendes (Released)
Deniss Rakels (Released)
Jonathan Bond (Released)
Danzell Gravenberch (KSV Roeselare) - Season Loan